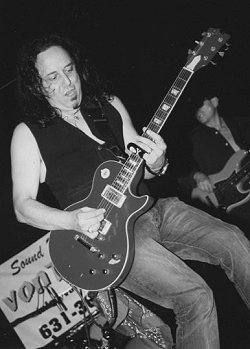 Photo: Eric Fieldstadt
Biography
Born and raised in New York's Five Towns area, Kane Daily has taken a musical journey
into the roots of his influence and has gained the attention of audiences in the local
blues and rock scenes.

Kane grew up in a musical family and was influenced at an early age to begin playing guitar.
His mother had an operatic voice, his uncle played guitar, and his older brother
played guitar and sang. Kane first learned bass guitar,
and at age 13 he switched to strumming notes
on a Silvertone guitar given to him by his brother.
He is self-taught and has various influences.

Beginning his career in the late-seventies cover circuit, He was weaned on the
early Glitter Rock and 70's guitar driven blues/rock sounds that were popular
on FM radio at the time.

After a short while playing the cover scene, he realized original music was the way to go.
After that there were many bands and many gigs.
Fast forward to the 1980's...

Kane joined the glam/rock group Star Star, performing at several venues in the New York area.
He joined them for the group's demo "Go Go Girls In Love," and spent a few years playing every
New York City club that exsisted in the late 80's.
Kane recorded some demos with the group and toured the Mid-west for a short time.

After his departure in 1990,he went back to some bare roots in musical styles of blues
and delta-style guitar playing, including acoustic and slide.

Kane briefly returned to working with Star Star in 1993 until the group's relocation to Greece.
Afterwards, he continued to network and perform with local groups.

Kane joined the NY group Rooster in 1996. Rooster created a buzz on the local scene
in 1997, and released a CD that same year. After the group's
untimely demise, three of the five members formed Dirty Dawg.
A demo was completed, but the members parted ways shortly afterwards.

Kane began fronting his own namesake act in 1999.
He also performed with Doug "Harmonica" MacLean
and was featured as a frequent guest of the Kerry Kearney Band.

The 2002 release, "Ain't No Millionaire," is a good snapshot of his dedication
to both rock and traditional blues. Two elements of Kane's style that have remained
consistent, no matter who he has played with, are showmanship and dedication to his roots.

The Kane Daily Band featured many talented players on drums, and bass guitar.



New material from Kane Daily Solo and KD and the Roadhouse Dawgs coming soon!.